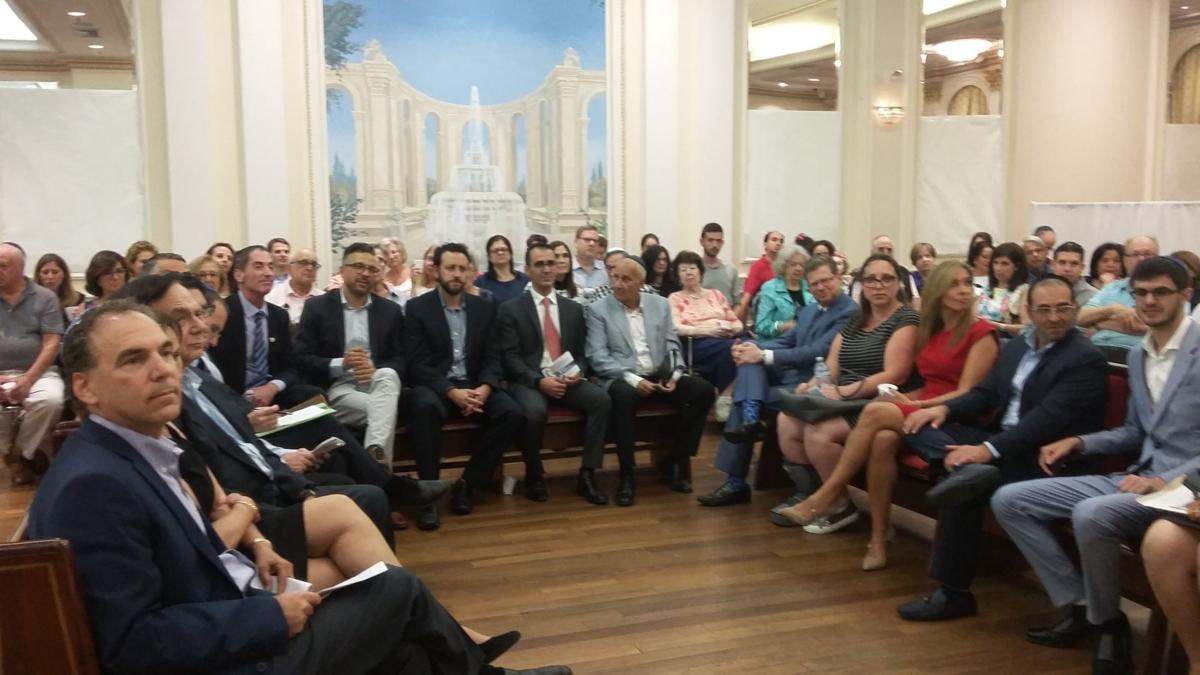 An underlying threat still exists that could see demerged municipalities again merged into the Montreal megacity, as took place between 2002 and 2005, says Côte St. Luc Mayor Mitchell Brownstein.
Residents in municipalities like Côte St. Luc, Hampstead, Montreal West and Westmount voted to demerge in 2004.
"There is still, and always, a threat of remerger, there is always that threat," Brownstein told an election event at the Or Hahayim Synagogue. "It's still spoken about at the higher levels, and there are those who believe we would be better off as part of the City of Montreal. So if you want a mayor who, I guarantee you, will fight to keep us independent no matter what, vote for me."
Brownstein made the statement during a mostly French-language election event Sept. 26. Also on hand were mayoral candidate Robert Libman and nearly all of the candidates for council seats. Demerger was a central topic of the evening. Brownstein was a demerger leader and Libman opposed demerging because of the conditions involved in Quebec's Bill 9, which he said would not give municipalities sufficient powers and independence
Later, The Suburban asked Brownstein for more details on his contention.
"The threat is not imminent," the Mayor said. "But there have been Mayors who have told me that they've heard discussions of the possibility. I wouldn't want to say more because I don't want it to happen. I haven't heard it from the provincial level. I heard it at the municipal level. Certain people at the municipal level would like that to happen, and I guess they would have to go to the province to push it forward."
Brownstein declined to reveal further details.
Asked about the issue, Libman said all he heard was from going door-to-door, that Brownstein "told them I want to re-merge Côte St. Luc with Montreal, which is completely false."
"I never said that," Brownstein countered.
We also asked Councillor Dida Berku what she has heard.
"There's kind of a movement at the City of Montreal with regard to centralization of power," she said. "Mayor Coderre centralized a lot of power with regard to snowclearing. I don't feel it in terms of remerger. But the mayors are nervous about it, yes — maybe they have information… Who knows? If the PQ came back to power, we don't know what would happen."
The election event as a whole was feisty, especially when audience members asked questions — it was akin to an in-person version of the frequently fractious debates on the Let's Chat CSL Facebook page. Accusations ranged from cyberbullying to overlong vacations to opportunism.
Moderator Charles Barchechath moderated the event with strictness and humour, keeping council candidate statements to two minutes and audience involvement to questions on local issues.
N
In my opinion:
The possibility of remerging with Montreal is a very scary thought. Cote Saint-Lucers don't want it. 90% voted to leave Montreal Mega-City. Why would we risk returning to this position that would weaken our glorious city?
Want to ensure that we stay the great suburban city that we are today? Want to have complete confidence that your elected representatives stay the course and speak out loudly and keep their promises on this thorny issue? Vote Mitchell Brownstein for Mayor and Glenn J. Nashen for City Councillor of District 6.
Trusted Leadership and Proven Experience.