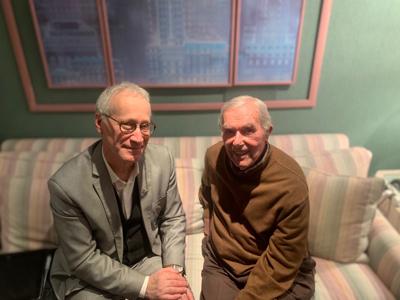 D'Arcy McGee MNA David Birnbaum will be honouring Côte St. Luc resident George Nashen, 96, with the National Assembly Medal at the annual D'Arcy McGee Citizenship Medal ceremony June 1, Birnbaum's office announced.
The MNA's office stated that Nashen, the father of former CSL councillor Glenn Nashen, will be honoured "in the name of all of those men and women who served the cause of freedom in that most pivotal and tragic conflict of the 20th century." The medal becomes part of the permanent National Assembly record.
"It struck me at our last Remembrance Day ceremonies in the riding how sadly close we are to a time when no first-hand witnesses to World War II will be with us to remember, or to be honoured for their sacrifice, courage and legacy in saving our fundamental freedoms, here in Quebec, in all of Canada and around the world," Birnbaum explained. "Furthermore, this riding that I serve is home to one of the highest numbers of Holocaust survivors and their families in Canada. The obligation of remembrance is deeply felt here, and this medal is one further way of expressing that obligation."
Nashen, a long-time community volunteer and former clothing manufacturer, was a Royal Canadian Air Force Sergeant during World War II.
"I was 19 when I enlisted," the veteran explained, "and I wasn't that worldly. I didn't understand much about politics. By 1938, with the rise of Hitler, the terrible threat to the free world started to become clear. I thought, I have to go over."
Nashen added that it is important for young people to "learn about the atrocities and the sacrifices of World War II. Do they really know the seriousness of war, the feeling of daily life, when you get issued a helmet and a gas mask to make sure you survive the day?… The freedoms we take for granted today, were in peril back then. That should never be forgotten."
Nashen stated that while he appreciates the medal recognition,he would "only accept the honour in the name of all of those veterans, still with us and those departed, who served in World War II."